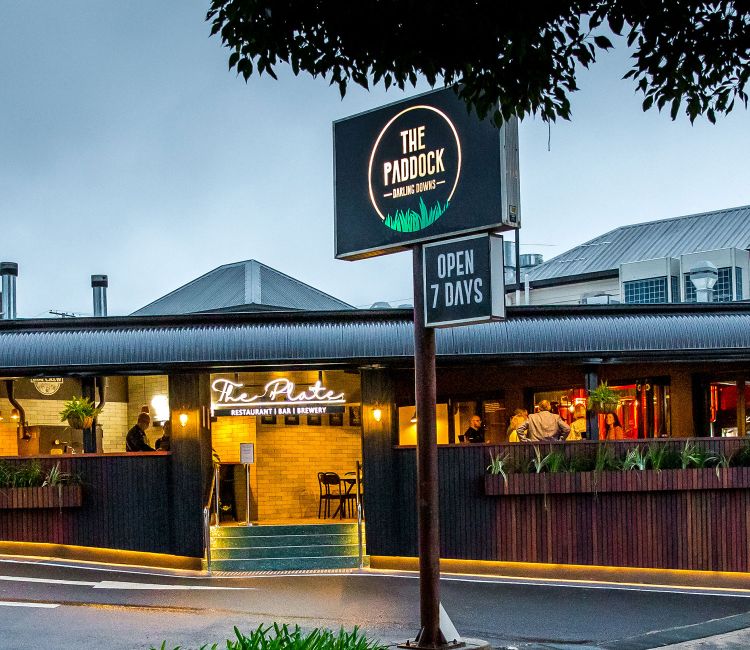 The Plate Restaurant Story
The story of The Plate Restaurant begins with a small handful of food lovers and hospitality veterans swapping restaurant and bar horror stories over a glass or two of wine, lamenting the 'perfect' night that got away. The common thread of expectation and satisfaction seldom meeting was the catalyst for the group making a list of pet peeves in one column and solutions in the other.
By incorporating the quality and expertise of The Paddock Butchery next door, those passionate hospitality dreamers, with list in hand, set about building 'their favourite kind of restaurant and bar.'
The Food: We've recruited an amazing Chef to draw on their world class experience to innovate.
The Atmosphere: Interior designers and builders were challenged with meticulous design notes so we ended up with a place we would want to frequent.
The Booze: Easy drinking beer is a must ... so we've built a brewery inside the venue to do it ourselves. The wine list isn't your usual stroll down the bottle shop aisle either. A list of management's favourite drops to be shared and perhaps become your own. Exciting cocktails and an eclectic list of spirits are served at the bar over 'good ice' that doesn't melt too quickly (bad ice ... pet peeve #7).
The Service: We've empowered a hospitality management team with over 60 years of knowledge to 'go crazy' with ways to enhance the guest and staff experience. With Care Factor being at the top of everyone's list, we sure hope we don't let anyone down ... including ourselves.
Our Businesses
Located at the same site as The Plate Restaurant, you'll find The Paddock Butchery, The Shed Coffee Drive Thru, and our inhouse craft - brewery, Bone Idol Brewery.
We've created a unique destination for Toowoomba where you can enjoy a delicious meal in the restaurant, pop next door to the butchery to purchase your meat, pantry items and local produce for the coming week, and grab a take - away coffee or snack on the go for breakfast and lunch!
Click below to find out more.